Shipping containers come in many varying sizes. They make excellent portable storage space because of the way they are designed. Since they are designed to transport heavy cargo in the sea and in harsh weather conditions they are made to be long-lasting, safe, secure and weatherproof. They are made of stainless steel and they can hold almost anything from food to heavy machinery. They are hence made to keep everything safe and secure making them the best portable storage units.
Shipping containers as self-storage units are a great idea because they come in all sizes and types. This makes it possible to store larger objects that cannot fit through the end side door or items that need to be kept at certain temperatures. They range in sizes but the 20ft container is the most common.
Shipping containers for portable storage space
The exact size of a 10ft container is 9ft4''long x 7ft8'' wide x 7ft 10''. This are commonly used for students breaking for summer since it is small and can easily accommodate all their belongings. No wasted space and also it fits everything reasonably well.
The exact measurements of a 20ft shipping container is 20' long x 8' wide x 6' high. It can fit the contents of two or three bedroom and hence becoming the most popular. Though they differ in in size and shape of the stuff you want to store, you stand to benefit more if you are more organized. This container is easier to transport than a 40ft storage container and it can handle many things as well.
This are usually used by people who have lots and lots of stuff. It is quite big and to be realistic it would be cheaper to use one 40ft container than using two 20ft containers. It can fit 3-4 cars depending on size or contents of a five bedroom house. Organization is key when using this containers. The lighter items that you may need most should be near the door. In that case you do not have to hustle much by removing the big items to look for small ones.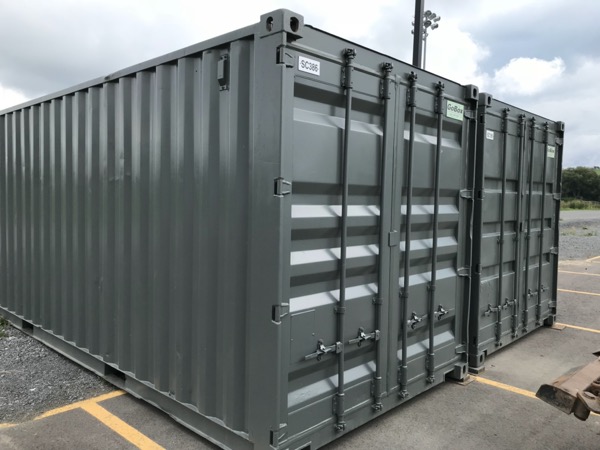 Why you should use shipping containers for portable storage space
They are strong – Shipping containers are designed to carry heavy stuff and so they are made with that in mind. They carry heavy cargo in the seas and sometimes under very harsh conditions. They are made of stainless steel and are water tight. This means that everything in the container is safe and secure from harsh elements.
They are mobile – Most people prefer Mobile storage to storage lockers. This is because you can easily move it from one place to another. Are you looking to move to a new location? You can contact GoBox Portable Storage for any assistance and information. We will simply drop off a portable storage unit to you for you to load. Once you are ready, we shall come pick it up and you will find it in your new locality.
It is Weather-proof – All our containers at GoBox Portable Storage are wind and water proof. You can therefore be assured that they can withstand the harshest of weather conditions. Your belongings will be secure and dry even during the rainy season.
They are free of rodents & bugs – Our containers are able to keep out all sort of pests and rodents that could destroy your belongings.
They are of different sizes – Where else would you find portable storage that comes in all types of sizes and shapes. We mainly have 10ft, 20ft 40ft. 20ft being the most popular because it fits in most driveways, courtyards and backyards. Most people prefer this container because it has an average storage for an average person.
Conclusion
Should you be interested in renting containers to move your valuables then you are at the right place. GoBox Portable Storage will give you a great experience as you do your moving. We do our work with a highly professional team that will make sure that you are contented with the results. All you need is to contact us at GoBox Portable Storage for all your enquiries and we shall be pleased to assist.
Our containers are readily available and once we agree on the day and time, we drop off the container for you to do the loading. We deliver to your next location as agreed. We offer reasonable prices to all our clientele which has grown as a result of referrals. For more on mobile storage information feel free to contact us at GoBox Portable Storage.
Looking for Storage?
GoBox Portable Storage is Eastern Ontario's most trusted storage provider.
(613) 536-8045