There is so much planning involved in running a business, it takes a lot of time and resources. Storage is one crucial area no matter what type of business you are running. Documents, stock, supplies, tools – all of these essential items take up space. Items such as stock and documents must be kept safely and in a conducive environment. To keep your business well organized, you must create enough space, and that's where portable business storage comes into play.
Mobile storage units such as GoBox portable storage help organizations and companies keep their items neat and organized. Portable storage containers are quite convenient as you can have them next to your business premises where you can monitor and access your belongings at any time.
Instead of moving to a different property, portable storage helps you maintain your day-to-day operations no matter how much storage you need. There's no need to worry about how efficient the containers are as they are pest-proof and weather proof. Our containers are securely equipped.
If you are unable to have the container stay at your location, you can have us pick it up and store it at our storage centre. GoBox portable storage can deliver the container to your premises and later on pick it up and store it safely.
The following are four benefits of portable storage containers to businesses:
1. Seasonal Portable Business Storage
Businesses experience seasonal stock, which is limited for a certain period. An example is decorations for the Christmas season, which are only needed in December. The same happens for restaurants, pubs, and retailers who experience seasonal change.
If you run a business that experiences seasonal change, then a portable storage container is the best solution. You can have GoBox portable storage deliver a container to your location, then load all your items and store them at the nearest center. We can always bring it back in the container when the seasons begin.
Contact GoBox for portable storage and have us deliver the perfect container for all your items. You can load the container and leave it at your premises or have used store it for you.
2. Tire Business Portable Storage
Tire shops are amongst the business whose market is readily available; hence you need to have the stock available at all times. Customers can always drop by your shop at any time. GoBox portable storage can help you get enough storage for your tires.
Like most businesses, there are those seasons that aren't so busy, and in such seasons, you need a safe storage room for tires. GoBox portable storage can consistently deliver a container next to your shop to have your stock. Alternatively, GoBox portable storage can store your container at our location.
Portable storage units can earn allow you to earn extra revenue by offering storage services. You may opt to store tires for your customers. Storing tires helps clients have a safe place to keep their winter or summer tires.
GoBox portable storage can deliver a suitable container so you can start earning revenue from tire storage.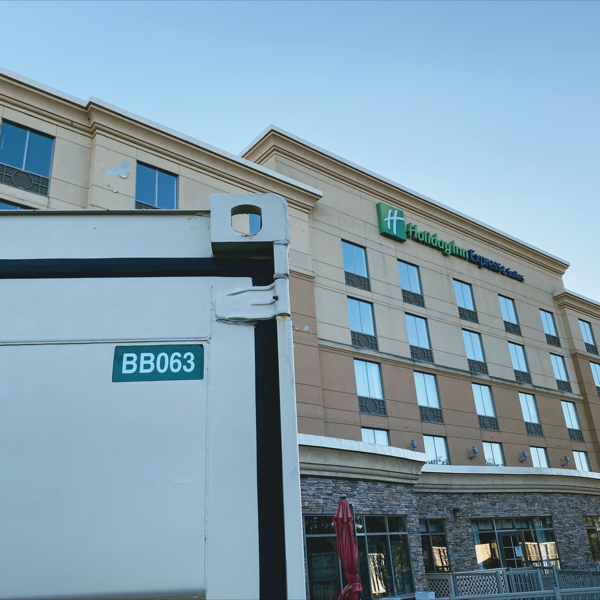 3. Portable Business Storage During Renovation of hotels and restaurants
Mobile storage gives space for renovation and expansion of your business premises so operations can continue flawlessly.
Business premises such as restaurants and hotels need to remain clean and organized even during renovations.
Hotels need to keep updating their designs, structures, and rooms; hence, they will have renovations taking place from time to time. The best financial decision for hotels is renting portable storage units, which keep all their items safe and in a good state. GoBox portable storage offers affordable containers with enough space to store all items.
Mobile storage is great for storing computers, stock, office supplies, dishware, legal documents, tools, materials, and patio furniture.
In most cases, restaurants close down while renovations occur, which doesn't have to be the case. Instead of closing down, you can rent portable storage containers to store your supplies and equipment.
GoBox portable storage can provide weather-safe and pest-free containers next to your restaurant. A container close by helps maintain customers coming in instead of closing. The security of our containers is enhanced by using a lockbox on the padlock.
4. Seasonal Equipment Storage
All businesses have seasonal equipment which doesn't need to be kept ready year round. Pieces of equipment such as Bobcats, shovels, and blowers are primarily used during winter. On the other hand, brooms and lawnmowers are used in summer. Such equipment is helpful to us in different seasons, and we cannot throw them away. GoBox portable storage can provide a container to help you secure such items while out of season.
GoBox portable storage has provided containers for schools, churches, and organizations. Items such as cabinets, chairs, tables, and desks can be kept away in containers to avoid damage. Some organizations and schools have opted to have a permanent portable container since they need the storage all year round.
Mobile storage units are the best place to store items you need to use occasionally. Apart from keeping our items safe, storage containers can be placed next to your business so you can access your items at any time.
Conclusion
GoBox portable storage provides the best solution for all your storage needs, no matter what time of business you run. Our storage team can help you figure out what you need and how much it will cost you. As a business, every dollar matters. Don't spend an extra cent getting a bigger warehouse – get in touch with GoBox Portable Storage to help with all your portable business storage needs.
[blocksy-content-block id="194″]
[blocksy-content-block id="229″]