Storage may vary depending on the items and the cost you are willing to pay. While some storage locations have enough space, their prices are higher. Finding the proper storage also has to go hand in hand with costs and how fast you can access the repository. Businesses generally think of warehouse storage as the only solution, not considering how convenient, affordable, and flexible renting portable storage is.
There needs to be proper accounting of all expenditure and income as a business. Some unnecessary expenses may occur occasionally could add up to huge losses. Especially for seasonal companies, you ought to have a permanent solution. Renting a portable storage unit helps your business grow more steadily.
The following are four reasons to consider portable storage containers for your business instead If renting or leasing a warehouse:
Affordable: mobile storage units are cheaper than warehouses, and no extra cost is incurred.
Flexible: By renting a portable storage container, you can move it from one location to another.
Secure: Storage containers are more space to store at a hidden location.
Convenient: portable storage allows you to expand your room without leaving your current location.
1. Renting Portable Storage is Affordable
Every business wants to save on unnecessary costs. Creating extra space is necessary but paying more than required is superfluous. You can save the money spent renting a more ample space by renting a portable storage unit. GoBox portable storage rent is way cheaper a supposed to leasing a warehouse. Different businesses have different needs, so are the containers used, which can be customized for any industry.
Apart from space, warehouses transfer all the expenses to you after signing the lease agreement. You will have to pay for building insurance, maintenance, and real estate taxes, plus the rent and utilities bill.
Leasing a warehouse has more costs than renting a portable storage container. If you consider renting or leasing a warehouse, you must be prepared to pay extra charges than the ones mentioned.
Comparing a warehouse lease and a renting portable storage container will realize the price gap. GoBox, portable storage containers, cost you at least $1 per sq/ft compared to leasing a warehouse.
You may choose to have the GoBox portable storage container stored at our center, which gives you various options:
Load at our centre
In cases where you do not have bigger luggage, you may opt to load the container at our center. This option is highly encouraged to save on cost and have small luggage; however, if you have many items, we can deliver GoBox portable storage container right to your doorstep.
If you decide to load the container at our center, you will only be charged for the GoBox portable storage first-month rent and the storage fee at our center.
Load Container at Your Site
For most businesses and companies, the best option is having the container delivered to their place. This makes it easy to transfer all your it's to your box without much back and forth. After you finish loading your items, you can call us and pick up the container.
In this option, you will be charged for delivering the container to your location and then bringing it back to our center. You will also pay the container and storage fee rental at our center.
GoBox portable storage units are much more affordable than renting or leasing a warehouse.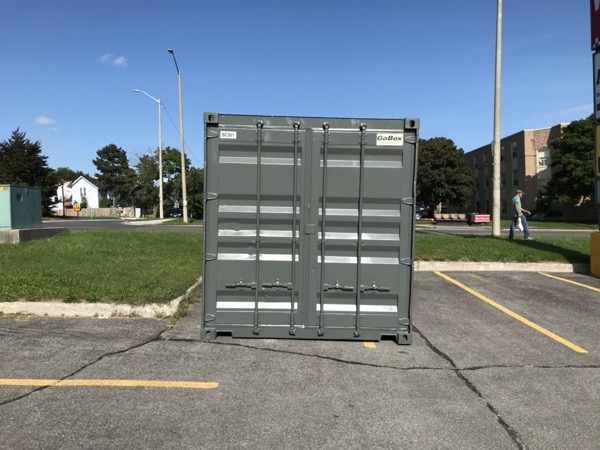 2. Flexible: When renting portable storage you only pay for what's needed
Portable storage is famous because it's convenient to move from any location you want. Mobile storage is a movable office. You can the storage container depending on supplies or seasons.
GoBox portable storage gives you the flexibility to pay for only what is needed. Renting a warehouse may sometimes inconvenience you as you may need to rent a larger space for high seasons, while during the low seasons, the area remains vacant. However, with mobile storage, you only rent what's needed.
Another advantage is that the container can come to your location instead of hiring a truck to transport the items, then unload then repeat the process. You can load all your items to the container and have them stored; then, when the need arises, we can deliver the container.
GoBox portable storage will deliver a mobile storage unit to your place to load at your convenience. You may choose to have the container stay in your yard or as us to move it back to the nearest center. If you have it stored at our center, you can always access it upon request. GoBox portable storage can also ship around the container to your premises.
GoBox portable storage is flexible in the containers as you can choose 8′, 10′,20′, or 40′ units. If you need a bigger or smaller space, we can consistently deliver it upon request.
3. Secure: GoBox portable storage safety features
GoBox portable storage ensures the safety of all client's products. The portable storage container is made of Corten steel which can withstand harsh conditions. Apart from the durability, the containers are weather conditioned and free from any pests to ensure all your product's state is preserved.
GoBox portable storage has an additional lockbox feature that shields the padlock from theft, robber, or bolt cutters. We ensure all your items remain safe under lock and key.
4. Convenience: available at any time
You've often heard that time wasted is never recovered, and time is money. Choosing a storage warehouse space for an emergency may take some time. First, you have to check on available warehouses and your budget. Well, portable storage solves both problems. Mobile storage is readily available when needed, and prices depend on how much space is required.
GoBox portable storage can make it easier for you by bringing the storage container. Mobile storage is the way to go for businesses looking for immediate space expansion.
Conclusion
Save yourself from the worry of renting a warehouse to loading and offloading items while you have the solution. Have a portable storage unit delivered at your location or store it at a centre near your office, making it easy for all your operations to continue without a hitch. Contact GoBox Portable Storage for more information.
[blocksy-content-block id="194″]
[blocksy-content-block id="229″]