Renovations take a considerable chunk of money apart from the time required for completion. No matter the kind of renovation you undertake, you should plan for storage. Nothing beats portable storage during renovations.
GoBox portable storage has been helping businesses and homeowners for years while they remodel or construct their properties. The benefit of portable storage is the convenience of moving it across any location. You can move your rented portable storage container right next to your property, making packing and unpacking much more manageable.
A renovation has a lot of moving involved, and secure storage Is undoubtedly a priority. When looking for secure storage to carry your tools, equipment, and furniture, consider mobile storage as the safest place. You don't have to worry about theft or break-ins as you can have the container delivered to your location or have it safely stored at our centres.
Home Renovations
Renovating a home is somehow hectic as you will still need all items close by. GoBox portable storage offers an excellent solution for home renovation. We will deliver a portable storage container next to your home, making it easy to access your personal effects. We are never in a hurry to take back the container, and you can have it for as long as you want. Another benefit of our containers includes being weather-safe and rodent-free.
There's another option of having the container at our centre if you are limited in space. Again, mobile storage is the best way since you can have all your items in one container instead of moving from one locker to another trying to find a thing.
GoBox portable storage always ensures the comfort of clients. In that case, we can deliver the portable storage container to your home or office and have it picked up and transferred to our centre upon request. All you have to do is make a call.
Portable Storage During Commercial Renovations
Businesses and offices can never stop working, even during renovations. There is never enough time from work for a renovation all year round. It's also important to consider moving to another office or warehouse may end up being more expensive; therefore, mobile storage is the best solution during commercial renovation.
Most businesses need to keep their operations running during renovations or property construction. Having that in mind, companies need to have an organized location where customers can still visit and feel convenient. Portable storage is the best option for all materials, tools, and staff in one location. Also, mobile storage can be placed just next to the offices so visitors can quickly locate the temporary location.
Other businesses such as retail stores and hotels need to move things out while renovating and constructing. Our portable containers are great substitutes for the kitchen with all the accessories fitted. Mobile storage also helps keep safe items such as furniture, kitchen tools, and office equipment.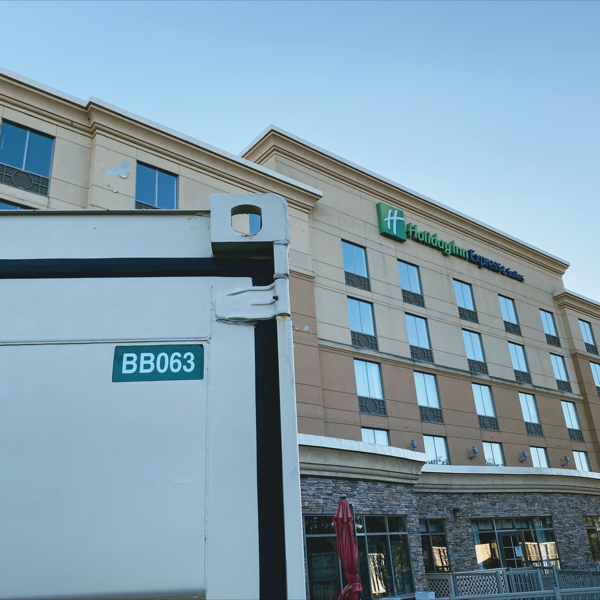 Portable storage units are also available for hotels. Hotels and tourism related businesses have constant need for renovations. While renovating, there is no need to store your items in rooms that may be more expensive; instead, having GoBox portable storage ship a container next to you is cheaper and convenient. While renting a container may cost you a few hundred dollars per month, renting a room or warehouse may cost $100 per day!
Apart from cost, mobile storage ensure your customer's privacy. While moving files from one office to another, you could quickly drop or misplace customers personal details. However, shifting all company documents to a portable container gives you enough time to counter check before the renovation begins.
Contact GoBox Portable Storage to discuss your needs during your renovation.
Looking for Storage?
GoBox Portable Storage is Eastern Ontario's most trusted storage provider.
(613) 536-8045